Swiss Trauma & Acute Care Surgery (STACS) Days 2022

SwissACS Research Price Award 2022
Congratulations to Dr. Christian Magyar for the SwissACS Research Price 2022 of CHF 1000.-!
Price jury: Prof. Dr. Dr. D. Demetriades, Los Angeles; Prof. Dr. Dr. P. Talving, Tallin, Estonia; PD Dr. T. Zingg, Lausanne; Dr. D. Jakob, Bern
The research price has been awarded for "Performance of the Quick Sequential Organ Failure Assessment (qSOFA) Score in predicting outcomes in patients undergoing emergency general surgery and the proposal of the modified Quick Age Disease Sequential Organ Failure Assessment (qadSOFA) score"
Foto: From left to right: Prof. Dr. B. Schnüriger, Dr. Ch. Magyar, Prof. Dr. Th. Lustenberger, PD Dr. T. Zingg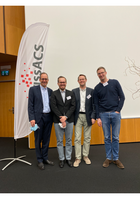 Acute Care Surgery (ACS) covers two essential components – trauma and non-trauma emergency surgery. In ACS, the close interdisciplinary collaboration of emergency surgeons, critical care specialist, anaesthesiologists, and ED physicians is of paramount importance. In an effort to strengthen the care of patients with acute surgical disease in Switzerland, a new Society called SwissACS has been established in 2017.
Among the founding members there are surgeons, anesthesiologists, emergency physicians and intensivists. All of you that are interested in the care of acutely injured or surgically ill patients are very welcome to actively participate in SwissACS. If you are considering to become a member of this new interdisciplinary working group or in case you need more information, simply contact us here.