Interdisciplinary Teamwork for Better Acute Care!

Ladies and Gentlemen
On March 16-17, 2023 the 12th STACS Days will be held at the Inselspital, Bern University Hospital.
Times of crisis underline the importance of high performance interdisciplinary Emergency Care for patients suffering from acute surgical disease. This interdisciplinary meeting including national and international speakers will be an update of the newest evidence in trauma care, resuscitation and non-trauma emergency surgery.
You will have the opportunity to submit scientific abstracts in the field of trauma care, resuscitation, and Acute Care Surgery. An international review board will select five abstracts that will be presented in plenary Session 4, March 17, 2023. An award of CHF 1000.- will be granted for the best scientific abstract by SwissACS.
As every year, we would like to encourage you to attend our Eat, Meet, and Greet event at the Schweizerhof Hotel, March 16, 2023, 18:00-23:00.
We are looking forward to see you at the 12th STACS Days!
Best regards,
Your STACS Organizing Committee
Prof. Dr. Beat Schnüriger, Prof. Dr. Aristomenis Exadaktylos, PD Dr. Tobias Haltmeier, Dr. Dominik A. Jakob
SwissACS Research Price Award 2022
Congratulations to Dr. Christian Magyar for the SwissACS Research Price 2022 of CHF 1000.-!
Price jury: Prof. Dr. Dr. D. Demetriades, Los Angeles; Prof. Dr. Dr. P. Talving, Tallin, Estonia; PD Dr. T. Zingg, Lausanne; Dr. D. Jakob, Bern
The research price has been awarded for "Performance of the Quick Sequential Organ Failure Assessment (qSOFA) Score in predicting outcomes in patients undergoing emergency general surgery and the proposal of the modified Quick Age Disease Sequential Organ Failure Assessment (qadSOFA) score"
Foto: From left to right: Prof. Dr. B. Schnüriger, Dr. Ch. Magyar, Prof. Dr. Th. Lustenberger, PD Dr. T. Zingg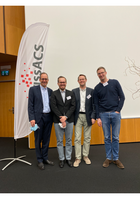 Acute Care Surgery (ACS) covers two essential components – trauma and non-trauma emergency surgery. In ACS, the close interdisciplinary collaboration of emergency surgeons, critical care specialist, anaesthesiologists, and ED physicians is of paramount importance. In an effort to strengthen the care of patients with acute surgical disease in Switzerland, a new Society called SwissACS has been established in 2017.
Among the founding members there are surgeons, anesthesiologists, emergency physicians and intensivists. All of you that are interested in the care of acutely injured or surgically ill patients are very welcome to actively participate in SwissACS. If you are considering to become a member of this new interdisciplinary working group or in case you need more information, simply contact us here.